Bitcoin Fast deposit
Typically to deposit bitcoins it takes around 30 minutes ( 3 confirmations). Fast deposit will enable you to deposit bitcoin instantly (0 confirmation)(0.002 BTC fee applies).
Customer must fulfill the following requirements to be eligible for Fast deposit.
・0.002 BTC or more deposits
・Deposits must be less than 30 BTC
・You must wait at least 60seconds from the last transaction at coincheck.
・blockcypher's transaction confidence must be more than 90.0 %.
Fast deposit is only eligible for deposits. 3 confirmations are required for withdrawals.
You can use Fast deposit by sending bitcoin to Fast deposit address or by selecting a transaction from the list of pending transactions.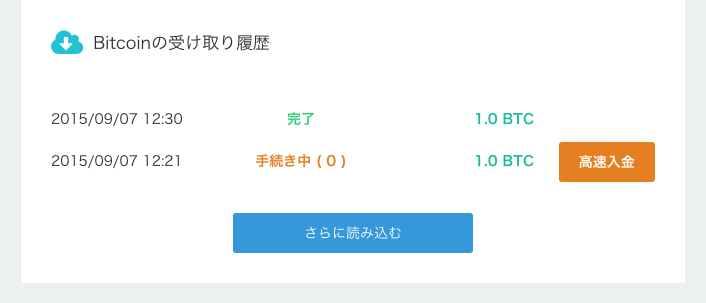 Fast deposit address
By sending bitcoins to Fast deposit address, bitcoins will be automatically transferred when it fulfill requirements.
For bitcoin transfers that don't fulfill requirements will be transferred after 3 confirmations.
You can see your Fast deposit address at receive bitcoin page.