Tentang keamanan
Di coincheck kami menanggapi keamanan dengan serius untuk menjamin pelanggan dapat bertransaksi bitcoin dengan lancar dan terpercaya.
Di sini, kami akan menjelaskan segala sesuatu tentang keamanan coincheck.
Bagaimana kita mengelola deposito Anda
Kami perusahaan benar-benar terpisah aset dari aset nasabah. Kami tidak pernah menggunakan aset Anda sebagai perusahaan.
Otentikasi Dua Faktor
Dalam rangka untuk memastikan Bitcoins Anda aman, coincheck mendukung Verifikasi 2 Langkah oleh SMS dan Google Authenticator iOS, Android).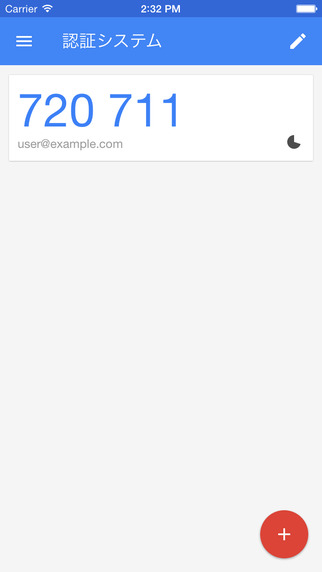 Kegiatan yang memungkinkan kata sandi anda bocor
Menggunakan kata sandi yang sama di beberapa situs

.Mengklik link spam

・Unduh software dari internet
Dengan menggunakan Verifikasi 2 Langkah, Anda dapat mencegah hacking dari orang ketiga bahkan kata sandi Anda yang dicuri.
Sertifikat Klien SSL
Ssl akan menghindari orang ketiga untuk melihat hubungan antara Anda dan kami.
SSL; Secure Socket Layer adalah protokol kriptografi.

・Periksa apakah simbol kunci ditampilkan di sebelah URL.

・Urlnya adalah "https://〜", not "http://〜".
Biasanya, HTTP (HyperText Transfer Protocol) digunakan ketika membuat koneksi antara server dan browser. Namun, HTTP tidak bisa mengenkripsi pesan atau blok spoofing. Kami menggunakan SSL untuk mencegah serangan dari kegiatan penipuan.
Anda dapat memeriksa detail dari server sertifikat SSL dengan mengklik tombol ditampilkan dalam kolom URL.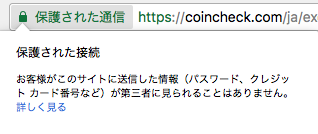 Ssl juga digunakan dalam sistem internal kami.
Login
Periksa Sandi Intensitas
Kami sarankan Anda menetapkan sandi yang kuat untuk melindungi akun Anda dari berbahaya pihak ketiga / orang. Untuk melakukan itu, silakan cek berikut.
· Jangan gunakan mudah diingat password; tanggal lahir Anda, nama dan id Anda gunakan untuk SNS.

・silakan gunakan variasi pada kapitalisasi, ejaan, angka, dan tanda baca.
Bagaimana coincheck membuat sandi
Password hash. Kami mengadopsi bcrypt (Blowfish); fungsi hash adalah cara yang cocok otentikasi.
Tentang akun terkunci
Ketika Anda login, kita kunci sementara akun Anda untuk mencegah hacking oleh orang ketiga jika Anda gagal untuk login untuk waktu-waktu tertentu.
Identity Verifikasi
Kami mengambil verifikasi identitas serius untuk membuat coincheck tempat yang aman untuk perdagangan bitcoin. Proses ini penting untuk menghindari pengguna penipuan.
Sms Autentikasi
Kami meminta SMS Authentication untuk memverifikasi identitas Anda.
Verifikasi Identitas (Individual)
Kami memverifikasi identitas Anda dengan meninjau salah satu atau lebih dari dokumen-dokumen berikut.
A high-resolution copy of either document listed below.(ID mush have your name & issuing country) (For people from non-English speaking country, we only accept passport)
※ Silakan selfie Anda dengan memegang ID Anda(ID selfie).
・Passport
・Residence Card(provide a backside image)
・Special Permanent Resident Certificate(provide a backside image)
・Driver's license(provide a backside image)
・Individual Number card(do NOT provide a backside)
Verifikasi Identitas (Corporate)
Jika Anda mewakili sebuah perusahaan silahkan menyerahkan dokumen-dokumen berikut.
Semua di bawah ini
·copy-resolusi tinggi dari sertifikat perusahaan dikeluarkan dalam waktu 6 bulan.

・dokumen merinci alamat kantor terdaftar perusahaan (Untuk perusahaan di luar Jepang). Copy buku tabungan atas nama perusahaan (Untuk perusahaan di Jepang).

・Foto pemilik perusahaan atau mengendalikan orang yang memegang / nya ID foto nya (ex: Lisensi paspor / pengemudi).

・Selfie of managing trader holding their ID

・Corporate trader registration form (If managing trader and company CEO are different)
Apa itu ID selfie?
Id selfie adalah cara modern Verifikasi Identitas Online. Hal ini digunakan terutama di negara-negara barat.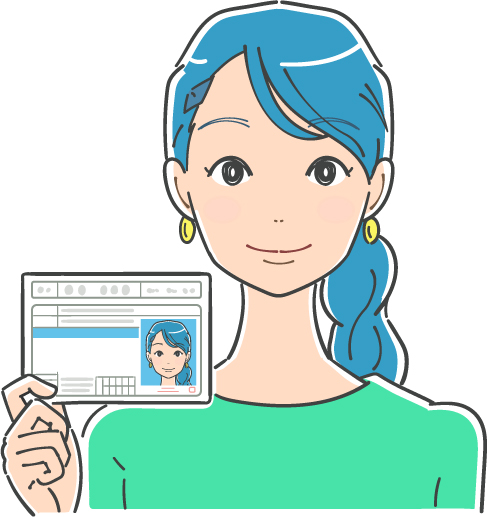 Identity Verification Document 1
Please submit front side image of the Identity Verification Document
Identity Verification Document 2
Please submit back side image of the Identity Verification Document

Auto Time Out
Anda akan secara otomatis log out jika Anda melakukan apa-apa untuk waktu tertentu. Ini akan melindungi akun Anda dari orang ketiga.